MINI is our compact "plug and play" heat recovery unit for space-conscious customers. It is versatile and comes with pre-assembled ducts for quick installation via a window, door, wall, and ceiling.
5-Year Warranty on the Heat Exchanger
Minimalist
Modular
Reusable / Recyclable
Most compact single-room heat/energy recovery units utilize either regenerative matrix or recuperative plate heat exchangers. However, MINI uses a revolutionary patent-pending breathable-shell shell-and-tube heat exchanger for passive heating in the winter and passive cooling in the summer. There are no electrical heating elements or refrigerant cooling coils in the unit. The heat exchanger is mechanically robust and can prevent frost buildup even in extremely cold climates.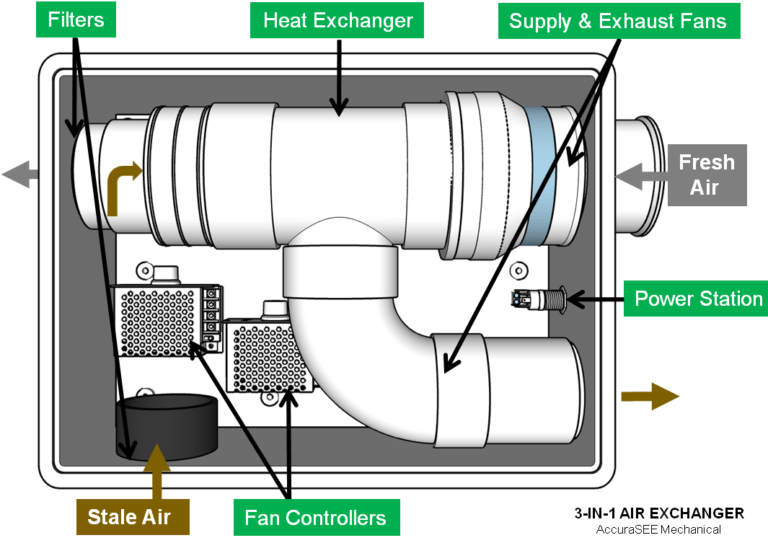 MINI consists of two axial fans that simultaneously supply fresh air to your space and expel stale air from the space to the outdoors.
MINI uses a PM2.5 filter (≥MERV13), which itself consists of an activated carbon fabric layer, to remove pollutants from the outdoor air that is supplied to your space.
Alternatively, customers can use a G2 (MERV4) filter.
This is the default mode of the unit at the nominal flow rate once a power adapter is connected to the power connector port. This mode is intended for the continuous ventilation of spaces.
The unit operates in this mode at the maximum flow rate when the power switch is pressed until it latches. This mode is intended to provide increased ventilation for brief periods.
Mount the product on the wall or ceiling. Otherwise, you may place it on a table or floor.
Drill 2x 3" holes through the wall or ceiling or through a board in the window or door.
Insert the 2x pre-assembled ducts into the holes and supply power to the product.