CLIMATE, which uses the same "plug and play" form factor as MINI, is an exhaust and supply fan system for thermal energy (heat) recovery*, and can continuously ventilate rooms, apartments, and houses.
Up to 5-year warranty on the air exchanger
Minimalist
Modular
Reusable / Recyclable
CLIMATE is an exhaust-priority unit* that utilizes dual high-efficiency tube-axial fans and a compressed duct for thermal energy (heat) exchange between supply and exhaust air streams to ventilate a wide range of spaces from single rooms and open concept spaces to small houses. The unit can be powered by a source that supplies constant 5V DC and up to 12V DC for maximum air flow rate.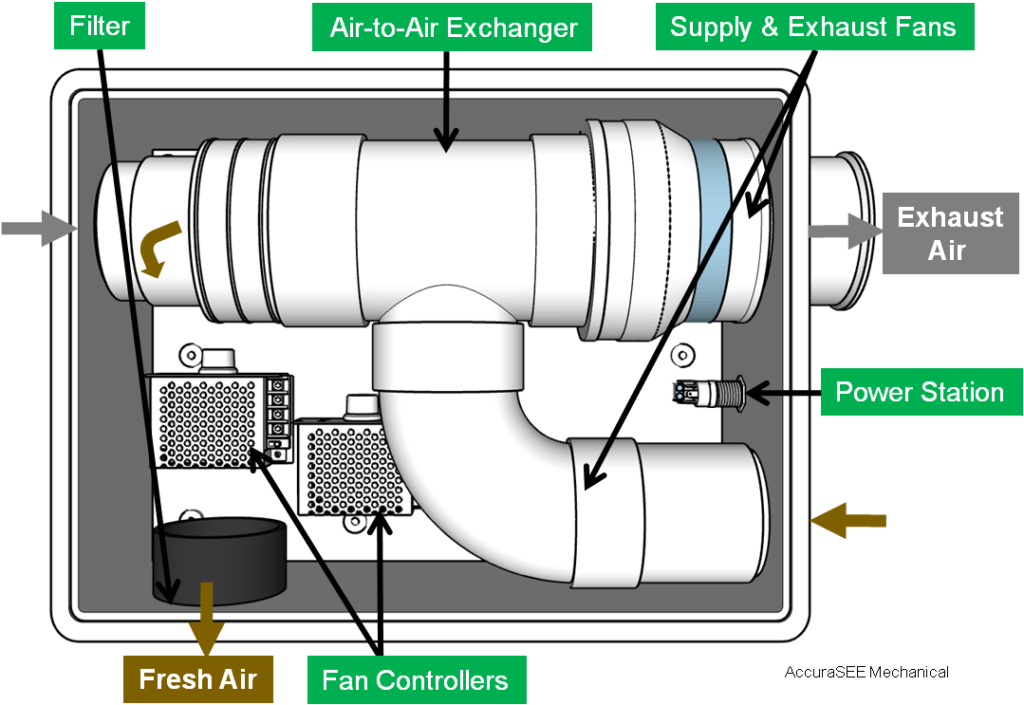 Stale air is "exhaled" through a compressed duct whereas fresh air is "inhaled" through the shell side of the air-to-air exchanger. Importantly, thermal energy (heat) exchange between the fresh and stale air streams occurs via the walls of the compressed duct.
If you need a robust heat recovery ventilator with HEPA filtration capability, choose MINI.
If you need to just ventilate a space with heat recovery, choose CLIMATE.
Please see more details on our FAQ and product comparison pages.
The product operates by utilizing internal operating voltages that are safe.
Standard parts are ingeniously utilized to guarantee reliability and mitigate obsolescence.
The product uses a simple configuration that translates to a robust build.
The unit features two variants.
This variant runs at a fixed speed at the output voltage of the AC-to-DC adapter or DC power source.
This variant features two speeds.
Normal: This is the default mode of the unit once it has been powered, and can be adjusted if needed.
Boost: Upon activation, the unit operates in this mode at a higher flow rate than the Normal mode.
Mount the product on the wall or ceiling. You may also place it on a table or floor.
Drill 2x 3" holes or use a fabric casement seal that has 2 zipper orifices to avoid drilling.
Insert the 2x pre-assembled ducts into the holes and supply power to the product.
We offer diverse products for a wide range of customers and applications…
Over the past few years, our customers have sent us glowing testimonials of which a few are published here.
We set up this review portal so that you can directly share your experience with our products.
fit was good… product has performed well in my application.
In our Nova Scotia winter this works well in our 256 ft² office…
Unit arrived in good condition. Glad I have it but no chance to set it up yet. Probably next year. Previous need mostly resolved.
I found my air exchanger was easy to install and I was able to get help form AccraSEE when needed. I like my air exchanger and would recommend it to friends.
Great Product! The mouldy smell in my apartment has completely disappeared! I stay in a wet basement and the Accurasee unit solved the dampness problem.
*Principle of thermal energy exchange at negative fluid flow balance through a primary exhaust fan and supplementary supply fan